Disaster Strikes When We Least Expect It!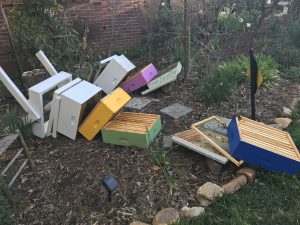 I am sad to report that when I woke up early Saturday morning I discovered this very ugly scene in my and Jax's bee apiary in my back yard.  I was just getting ready to leave for a Saturday morning class when I discovered this huge attack on our bees.  It was very intentional and was done by human hands.  This is yet another reason why all of us must be vigilant and watch our hives and apiary.  I posted the following on Facebook:
post 1 – Saturday
I want to thank all of you for reaching out to Jax and me concerning the vandalism of our beautiful bee apiary. While we lost several thousand bees total, the core in each hive remained and protected the queen from the cold. I have been able to reset all three hives and have determined that there are enough bees in each hive to survive. However, I am sure We lost a great deal of the capped larva, which would soon become our new young bees. This will put all three hives behind for now…but if the queens have survived, they will go right back to work laying and replacing these bees. The bees will take care of any dead larva and will put things back in order. Bees are beautiful, intelligent and extremely hard working. They will survive!🐝
I have given my bees permission to protect their hive if this happens again!😂
Again, thank you for your concern. Jax and I will continue our work as bee sustainers for our community. The good news is other hives in the neighborhood as well as all hives in the Apiary are safe and untouched. There is little doubt that this action was intentional and directed specifically toward my apiary. Please be in prayer for this person or persons.
Post 2 Monday Morning
Bee Update! You can be a part of a POSITIVE RESPONSE.
So many people have responded to the recent vandalism and attempted destruction of my and Jax's bee apiary that I cannot respond to you individually. Thank you for your prayers and concerns. Let's us use this event to convert anger and sadness into something more positive and become even more determined to help save our beloved honeybees. I will be posting more information as to their importance as time permits. Two things you can do:
1. Make a charitable contribution by writing a check to the Mount Holly Farmer's Market and designate your check to the Smith Educational Bee Apiary. Your funds will be used to maintain The Frances Smith Educational Bee Apiary right here in Mount Holly and will help us maintain the acre of property set aside for our bees. Funds will also be used to buy equipment and materials for our hands on bee school.
Mail your checks to Mount Holly Farmers Market, PO Box 352, Mount Holly, NC. 28120. Again, be sure to designate your funding to the apiary. We are a 501c(3) charitable organization, so your gift is tax deductible.
2. I still have room for two more people in my hands on bee class which will begin in about a week. The cost of the course is $525 and includes your complete hive, tools, protective clothing and a nuc of bees complete with queen. There is no charge for the instruction…I do this for free for the bees and because I just love to teach! I have created a blog for our classes and much of your instruction is set up in lessons here. You will also receive a copy of the Backyard Beekeeper, which I believe is the very best book for a beginning beekeeper. The rest of learning is hands on in the Apiary. If you cannot meet at an established group time, I will meet with your personally to go through the lesson using your hive.
We will place your hive in the Mount Holly Farmer's Market Smith Educational Bee Apiary in Mount Holly for the first year, and then we will move to your home or site of choice next year. Of course, you can always keep it in our Apiary as well so you may continue to learn and fellowship with other beekeepers.
Update on Our Apiary
It appears at this time I have been able to save two of the hives and the bees have settled back in. This next round of colder weather will be hard on all three hives after this event and I have determined my third weaker hive is in trouble. Planning to transfer them into my glass 8 frame demonstration hive today which I keep inside and is heated. Very concerned they cannot survive the next several days of cold weather. Thank you for your prayers and concern.