Erin Denison (3rd Year Beekeeper) and Mr. G (Apiary Manager and Instructor) celebrate the arrival of our new BEES!
On Saturday, May 6, a new chapter began in our beloved Smith Educational Apiary. This past winter we all suffered devastating losses in our apiaries…and this was a national trend as well. I lost 10 of 12 hives while most of my students lost all of their hives. What to do? What to do? No question, we must repopulate and begin in earnest to learn from last year and become better bee Sustainers. This photolog is dedicated to this renewal which began this past Saturday…

I forgot, we stopped for lunch as well. This is Whispering Pines BBQ, just 5 miles down the road from the Albemarle Bee Company. They have been in business since 1945 and are one of the premiere Eastern BBQ places in the state. Yes, there is a Big Ol woodpile out back…first sign that this place is the real deal. There was a sandwich calling my name and hush puppies grabbed hold of Erin. We got everything to go and ate happily all the way back to Mount Holly!

Once we arrived we set to work with a new Apiary design so Mrs. Smith could view and enjoy our bees more easily.  Getting hives stable and properly pitched is just a small part of setting up new hives.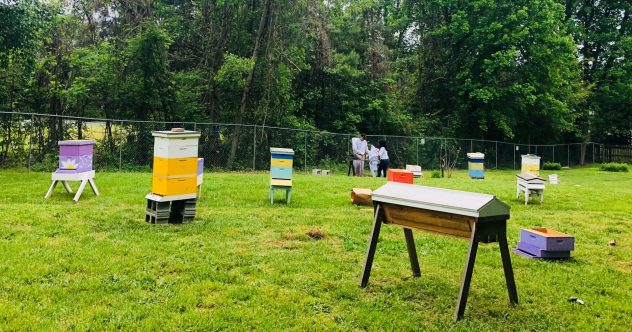 Now the real work begins as 2nd and 3rd year students work together to teach our newest bee Sustainer, Lena Chatman. Thanks to my experience with the Gaston County Bee Association I knew my job was now one of support and staying in the background as our veterans began to share and teach our new student. There is no better way to reinforce and learn than by teaching. I was very proud of them and they did a magnificent job!

Lena shows she is adept and unafraid to handle her bees!  We found these nucs of bees to be the best bees we have had yet.  Shelly Felder of the Honey Hole in West Jefferson has been trying to get me to slow down and order the late bees of Spring.  Looking at the fullness and strength of these 5 frame hives (we call nucs for a "nucleus"of bees)…I now have understanding of why she wanted me to do this.  Thank you Shelly!.
Except for placement of her telescoping top, Lena has completed her first installation of bees.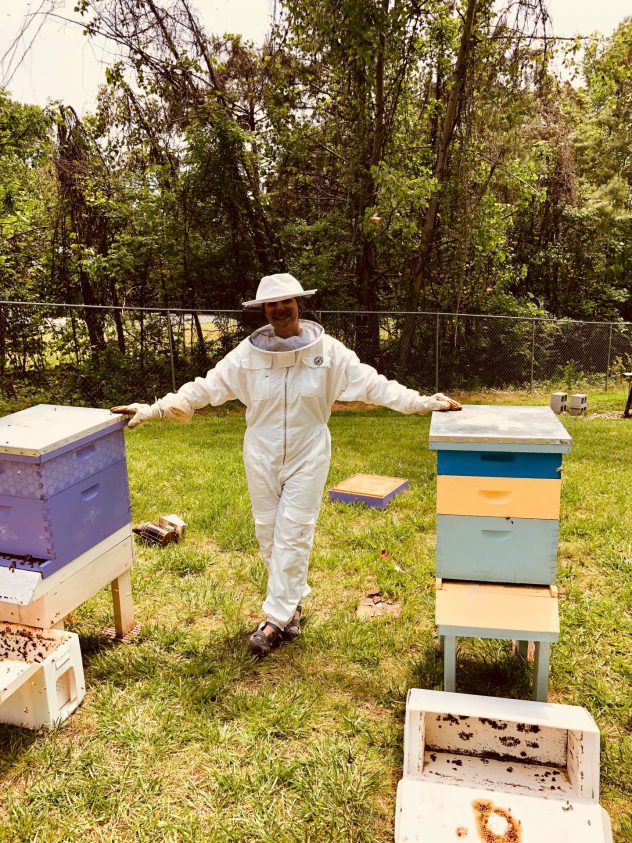 Each year Erin has carved out time to be with me on this yearly Spring journey to fetch bees for our students.  This year she felt confident enough to become an instructor.  She was absolutely superb and as I listened in, found nothing I would change or could add.  In the end, this is what we most desire….passionate Beekeepers who are willing to share with others and help create another generation of Beekeepers.
Before we left our Smith Apiary, we made a quick check of the demo hive to make sure the new queen had been accepted and incorporated into the hive.  Note how we set the medium down so as to keep the bottom and top cłean.  The burr cone sticking out was safely removed before re-installing the hive.  We keep a small bucket handy for disposal of  beeswax as it is highly valued and can be made into many wonderful,products…just ask Burt's Bees!
Here is the now empty queen cage which is exactly how we had hoped to find it.
Meet Queen Nora II.  She is the larger, browner bee almost in the center of the above photo.  She is a beauty and has quickly filled our top bar hive with capped brood.  New bees will soon be emerging and this hive will be at full capacity with workers again.
Another look at Queen Nora II in top right of photo .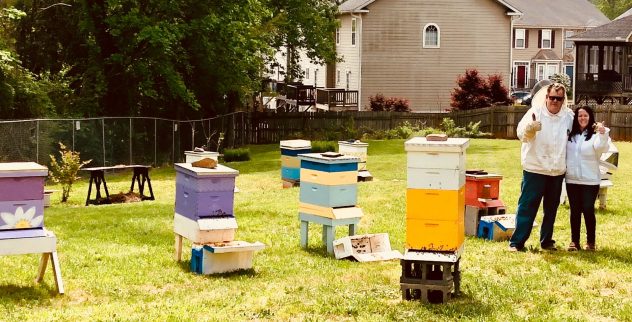 Big thumbs up as we leave the Smith Educational Apiary and head a few blocks away to the Bobby and Melanie Black Backyard Apiary.  Lena is all smiles in this last photo and why not?  She has installed her first hive of bees.
As soon as we arrived, Bobby and I went to work on his first hive which is one of only three that survived this last winter.  Unfortunately, last week we determined there was no queen.  Dandelion Apiary in the Concord countryside provided a new queen and we wanted to check and be sure the queen had been accepted by the hive.
Good news, bees clinging to the outside, but the inside had been vacated by the queen and her subjects.  This is a positive sign she has been accepted.
Melanie and Bobby pose by Queen Estella II before beginning the population of two more brand new hives.
Again, look at all the new brood going into this new hive.  We were also pleased with the gentle nature of every Nuc we opened up and installed today…9 in all.
Bobby demonstrates good form here as he moves slowly and gently with each frame he installs.
Melanie  just loves their bees and shows no fear as she gently removes and installs frames of bees in another new hive.
A small application of smoke calms the bees as installation continues.
Even after all the frames were removed our boxes were still loaded with bees.  Bobby is about to tap the box here, and in the next photo you can see all the additional bees added  to the hive.
Bobby and Melanie are beginning their second year as Beekeepers and no longer wear the badge of novice as they gain knowledge, confidence, and experience.
I think Bobby was surprised at how quickly this install went and is now ready to add the cover to their third hive of bees.
We are ALL SMILES…and well we should be.  Erin hung right in with me and really neither of us had to do much teaching with these two.  Once this photo was completed I was off to Alexis to install my one Nuc of bees on the Sisk Farm.  This brings me back up to two hives there.  I am hopeful I will catch another swarm and add one more hive there before summer is over.
By the time I returned home, I had completed 12 hours of work toward our efforts to establish new hives and repopulate failed hives.  All in all this beekeeper was very tired, and very happy!
Your questions and comments are most welcome.