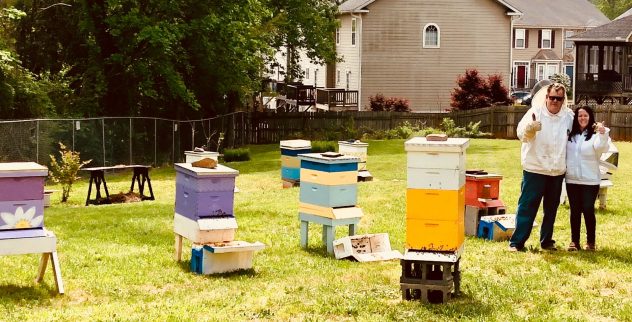 Good morning fellow Bee Sustainers…a few updates for you:
1. Lena will be installing a new package of bees today to replace her hive which decided to leave unexpectantly. She will also be moving her hive to her new home here in Mount Holly which will enable her to enjoy her bees more and also be more watchful. Erin will be introducing her to a new beekeeper in her new neighborhood today as well.  While I love our apiary, I also love and support folks who want to keep bees in their yard. Lena will continue to be a part of our team. I plan to be with Lena and Erin when they do the install later today. I am suggesting a new, gentle way to install a package and will have Erin video for us. I am not sure of the time yet.
Questions Lena Asked:
– What happened to my queens?
Truthfully we can only speculate.  My best guess is the first one was damaged during installation.  The second one seems to have just left (swarmed) with a number if bees…which is very rare for a new hive and new queen.  Why?  We just do not know…it happens.  I do not in anyway fault the beekeeper as Lena had done everything by the book.
– Can I move my new hive to my house?
Yes.  Remember, these are your bees and your equipment.  Also, most of your bees have left, so this is a good time to move them.  I would just encourage you to complete hive inspections with other beekeepers since you have only the one hive so you have something to compare your hives to.
–Do I need to feed my new bees something more than sugar water…perhaps add a frame of honey?
No.  1:1 Sugar water will do the trick.  I do suggest adding HoneyBee Healthy to your sugarwater.  This contains some essential oils that are very helpful to the bees.  You can buy this on line at Amazon or any good bee store.  You also can make your own.  I have a recipe near the beginning of our lessons part of the blog.
2. Meanwhile, Bobby and Melanie are awaiting Estella III. Yep, Estella II took off for parts unknown. If she comes in today, we will complete this install as well. We all can do the right things, but we must understand these creatures have a mind of their own! Please let  me know if she gets in today. Bobby and Mel completed inspections of all three of their hives last week. All hives doing well except for their Estella hive. Plenty of bees, but no brood or queen.
3. Meanwhile, Sean is enjoying huge success and has completed two inspections. While not seeing his queens directly, the huge amount of capped brood tells him all is well. You can see his write up of one if his inspections in the comments of an earlier post. He has determined that feeding is in order. Again, we cannot know what our bees need without inspections.
3. Erin plans to inspect her hives today. I hope to join her. From all outward signs her hives look strong.
4. Andy has one hive in our Apiary and two hives at home. As if this writing I have not heard from him. His hive in the Apiary appears strong.
I encourage you to write up your inspections, observations, and questions from time to time here on our blog in the comment secrion…or text/email them to me and I will add to our blog.  Photos and videos are always nice as well.